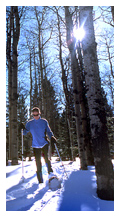 Local beaver creek crosscounty and snowshoe area.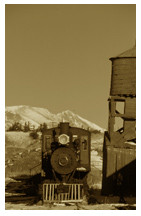 The old South Park Train in South Park City.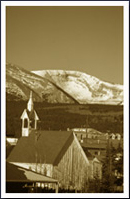 Fairplay town Church
Copyright 2002. Sanderson Images. All Rights Reserved.
The content of this web site is published by Sanderson Images and is protected by the copyright laws of the United States. The Designs, Logo, Photography and Illustrations used on this site are the property of Sanderson Images.
How can Sanderson Images Help You? Click Here!
Welcome to The Western Inn Motel and RV Park in beautiful South Park Colorado. We are located in the town of Fairplay, Colorado, just 23 miles from Breckenridge Ski Area. Fairplay is a beautiful small quaint town surrounded by fourteen thousand-foot peaks. In the summer we have cool comfortable days and star lit nights. We have plenty of activities for the tourist including cute front street shops, good restaurants, extraordinary hiking, mountain biking, horseback riding, great fishing, hunting and a variety of other activities including South Park City, a wonderful ghost town museum. During the winter the area offers snowshoeing, cross country skiing, ice fishing and downhill skiing in Summit County and staying at the Western Inn will save you on lodging costs compared to what you would pay in a nearby ski town. Our town is a soothing alternative to the busy ski resorts and after your eventful days you can still relax in our hot tub and enjoy the quiet. All our rooms have private baths, telephones, cable TV, microwaves and refrigerators. In the morning we offer a continental breakfast with rolls and coffee. The Western Inn Motel and RV Park was built in 1981 by John and Muriel Crawford, longtime residents of Fairplay. The Motel has always been family owned and operated since its beginning. John and Muriel have retired now and reside in Grand Junction, Colorado. Their daughter and son-in-law, Linda and Jack Sanderson, are now part owners and the present managers of the business. Jack and Linda are dedicated to providing you with clean, comfortable, spacious rooms at a reasonable rate. They have lived in the rocky mountains all their lives and have been in and around Fairplay and South Park since the early seventies. They have been in the hospitality business for many years and they will be happy to help you plan activities or answer any questions for your vacation in this area.The Western Inn Motel and RV ParkRoom Rates All our rooms have private baths, telephones, cable TV, microwaves and refrigerators. Our rooms with 2 double beds or 1 king bed are $65.00 from May 25th – September 30th and $53.00 all other times. Some of our rooms have kitchenettes with stoves, but you must bring your own dishes and cooking utensils. A little bigger room with an added skylight, coffeemaker and 2 queen sized beds are $71.00 from May 25th-September 30th and $58.00 all other times. We also have a cute 1 bedroom condo with a queen bed and a queen hide-a-way couch for rent on main street. It is walking distance to all the shops and restaurants. The rate is $85.00 per night with a 2 night minimum or $450.00 per week year round. It has everything you need for a lengthy stay, including, telephone, cable TV, microwave, refrigerator w/icemaker, dishwasher, gas grill, coffeemaker, toaster, dishes, utensils and linens. The condo renter has full use of the motel hot tub too. Our RV rates are $20.00 per night. We have full hook-ups including water, sewer, electric, cable TV and an available shower room. If you stay in the RV Park for a week you get 1 night free. There are extra charges for over two people in a room. Children, under 18 years of age, in the room with an adult are free. Pets are welcome with a one time $5.00 cleaning fee and a refundable $25.00 damage deposit. Copyright © 2002. Sanderson Images. All Rights Reserved. The content of this web site is published by Sanderson Images and is protected by the copyright laws of the United States. The Designs, Logo, Photography and Illustrations used on this site are the property of Sanderson Images. How can Sanderson Images Help You? Click Here --> Sandersonimages